Patrick Dobbin, Erkek, İrlanda
Cthulhu-DatingOnlinedün akşam görüldü
5

6

8

1

1

çalış 3 May 2009 tarihinden bugüne
14.179 Sevilen Parça | 30.176 Mesaj | 3 Müzik listesi |

2.549 not
Yenile |


Besleme
| | | | | |
| --- | --- | --- | --- | --- |
| 1 | | | | |
| 2 | | | | |
| 3 | | | | |
| 4 | | | | |
| 5 | | | | |
| 6 | | | | |
| 7 | | | | |
| 8 | | | | |
| 9 | | | | |
| 10 | | | | |
| 11 | | | | |
| 12 | | | | |
| 13 | | | | |
| 14 | | | | |
| 15 | | | | |
| 16 | | | | |
| 17 | | | | |
| 18 | | | | |
| 19 | | | | |
| 20 | | | | |
| 21 | | | | |
| 22 | | | | |
| 22 | | | | |
| 24 | | | | |
| 25 | | | | |
| 26 | | | | |
| 27 | | | | |
| 28 | | | | |
| 29 | | | | |
| 30 | | | | |
| 31 | | | | |
| 32 | | | | |
| 33 | | | | |
| 34 | | | | |
| 35 | | | | |
| 35 | | | | |
| 37 | | | | |
| 38 | | | | |
| 38 | | | | |
| 40 | | | | |
| 41 | | | | |
| 42 | | | | |
| 43 | | | | |
| 44 | | | | |
| 45 | | | | |
| 46 | | | | |
| 47 | | | | |
| 48 | | | | |
| 49 | | | | |
| 50 | | | | |

Besleme
| | | | | | |
| --- | --- | --- | --- | --- | --- |
| 1 | | | | | |
| 2 | | | | | |
| 2 | | | | | |
| 4 | | | | | |
| 4 | | | | | |
| 4 | | | | | |
| 4 | | | | | |
| 8 | | | | | |
| 8 | | | | | |
| 8 | | | | | |
| 8 | | | | | |
| 8 | | | | | |
| 8 | | | | | |
| 8 | | | | | |
| 8 | | | | | |
| 8 | | | | | |
| 8 | | | | | |
| 18 | | | | | |
| 18 | | | | | |
| 18 | | | | | |
| 18 | | | | | |
| 18 | | | | | |
| 18 | | | | | |
| 18 | | | | | |
| 18 | | | | | |
| 18 | | | | | |
| 18 | | | | | |
| 18 | | | | | |
| 18 | | | | | |
| 18 | | | | | |
| 18 | | | | | |
| 18 | | | | | |
| 18 | | | | | |
| 18 | | | | | |
| 18 | | | | | |
| 18 | | | | | |
| 18 | | | | | |
| 18 | | | | | |
| 18 | | | | | |
| 18 | | | | | |
| 18 | | | | | |
| 18 | | | | | |
| 18 | | | | | |
| 18 | | | | | |
| 18 | | | | | |
| 18 | | | | | |
| 18 | | | | | |
| 18 | | | | | |
| 18 | | | | | |
| 18 | | | | | |
Hakkımda
[I should say, If you don't know by now that most of the images on this profile are hyper-linked!]
~
"Turn on, tune in, drop out"
-
Timothy Leary
"Nothing to prove, Just a hellish rock n' roll freak"
-
Darkthrone
†
Email:
aragornelessar1@hotmail.com
†
Skype
: DaddyPobbin
@DaddyPobbin
† Film Catalogued:
http://letterboxd.com/daddypobbin/lists/
† Links:
http://flavors.me/daddypobbin
† Journals on last.fm:
http://www.last.fm/user/DaddyPobbin/journal
†I'm Paddy Dobbin, i'm Irish, I've got...Long Hair [about waist length], Blue Eyes, Spectacled, around 5ft 9, and i live in Béal Feirste (Belfast), Ireland. I've also got a
twin
sister. I'm a
Tolkien
expert.I read books rather like eating, always hungry for more ;) I am the
Last.fm forum
's resident
Irish Republican
. Oh and I love the 80s <3
†My interests would be: Drink,Music,Literature, Sketching, Crosswords :P, Computers, Film enthusiast,Venturing (camping,volunteering)& News.
"We are the causes of our own suffering"
Scrobbles/Plays:
I'm a predominantly album listener, as opposed to a playlist guy. I generally only scrobble when I'm online at my computer and my ipod scrobbler just doesn't work - so it might be why my play's are all over the show, and
does not fairly represent what/how/who I frequently listen to all the time
accurately..
Check out my charts
;)
Seen Live:
Check out
Events
for gigs/bands i've been to see+festivals. Some of my favourite live gigs include
Opeth
, Eddie Izzard, Mastodon, Deerhunter, Michael Nyman, Kamelot, Lúnasa,
Nine Inch Nails
/Janes Addiction, Airbourne, God Is an Astronaut, Rodrigo Y Gabriela, Anathema,
Primal Scream
/Sonic Youth,
Zero 7
, Bloc Party, Royksopp/Orbital, Chemical Brothers, Beastie Boys, Justice, Daft Punk, Digitalism, Megadeth/Judas Priest,
Iggy Pop
, Manic Street Preachers, Björk...to name a few. [hundreds]
†
15 albums eternal albums
[that will always stay with me:
DaddyPobbin Journal - 15 Eternal albums
†
50 films
I recommend you see
before you die
:
http://www.last.fm/forum/5/_/646626#f13441784
"Less than 3% of you read and less than 15% read the newspapers"
Fnord
†
The weird and wonderful:
My eclectic score is currently



100/100
My super-eclectic score is currently



810/1000
My Hobbies: Rum and Headbanging
"But I, being poor, have only my dreams; I have spread my dreams under your feet; Tread softly because you tread on my dreams" - W.B. Yeats
Is breá liom ceol
†
Ireland
is a very
mystical place
,
'It's like living in an Enya song'
and has a lot of this carry-on: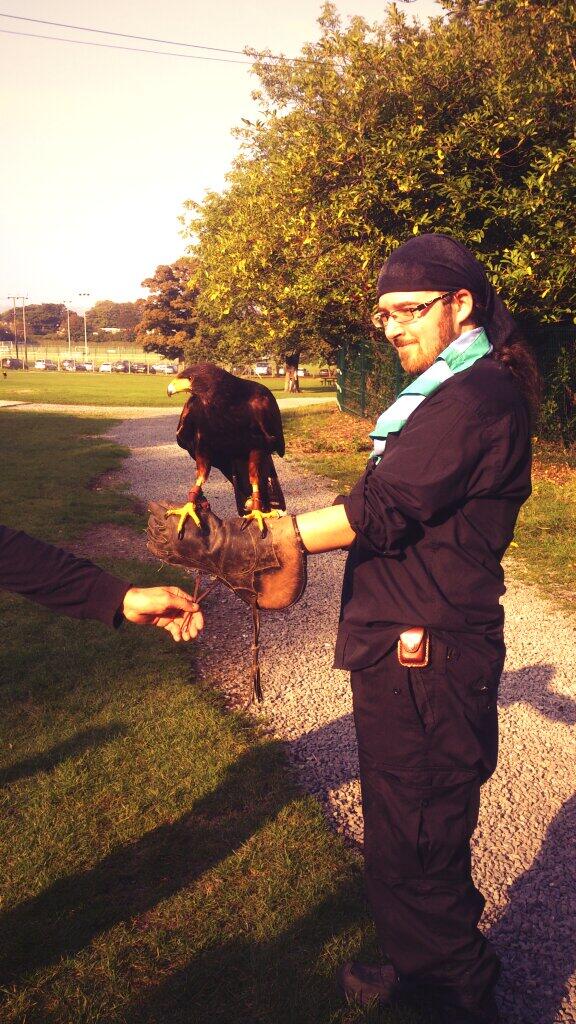 †The Great Motion Picture
(Fantasy,Action,Horror, Historical etc.)
*♥
Directors:
Peter Jackson, John Carpenter, Werner Herzog, Billy Wilder, Ingmar
Bergman
, Clint Eastwood, Sergio Leone, David Lynch,
John Boorman
, Ralph Bakshi, Jim Sheridan, Carol Reed, Guillermo del Toro, Stanley Kubrick,
Wim Wenders
, Andrei Tarkovsky, David Cronenberg, T.Burton, FF Coppola, John McTiernan, Kevin Smith, Christopher Nolan, Errol Morris, Quentin Tarantino/ Robert Rodriguez♥*
*
The Exorcist, Lord of the Rings, There Will Be Blood, Aguirre: Wrath of God, Butch Cassidy and the Sundance Kid, Dark Knight, Predator, Gran Torino, Murder By Death (1976), The Field, Peeping Tom. Breakfast on Pluto, 300, The Blues Brothers. The Thing, Barry Lyndon, Excalibur
*
,
Biutiful
, The Holy Mountain, Ilsa, She Wolf of the SS,
Le Roi danse (The King Is Dancing)
, Orlando,
The Shining
[greatest film opening ever]
, Space Odyssey
[2nd best film opening?]
,
Star Trek II: Wrath of Khan
,
La Vie en Rose
, The Elephant Man [David Lynch], Freaks (1932),
Pola X (1999)
,
Pulp (1972)
Dazed & Confused,
Vanishing Point
,
Koyaanisqatsi
, Murphy's War, Kung Fu Hustle, Witchfinder General, The Seventh Seal, Caligula, If, A Clockwork Orange,
Låt den rätte komma in (Let the Right One In), Tremors I&II
,
Coonskin
, Fritz the Cat, Fire and Ice,
Young Frankenstein
, The Third Man
[Reed's Noir masterpiece]
, Unbreakable, Cradle of Fear, A Fistful of Dynamite,
Svidd Negar
,
A Matter of Life and Death
, Memento, Constantine,
Once Upon a Time in the West
,
V for Vendetta
, Robocop, Dawn of the Dead, and any zombie film in general, The Dunwich Horror,
Blood on Satan's Claw
, Groundhog day,12 Monkeys, The Night of the Iguana, The Spirit of the Beehive,
Disco Godfather
, Pan's labyrinth 28 Days Later, Police Academy, Rita, Sue and Bob Too!,
This Sporting Life
,
Tremors: awesome homage to 50's creature features
Underworld 1&2,
The Room
, Blade I, The Matrix, The Crow,
Solaris
(Tarkovsky), Pulp Fiction, In Bruges,
Severed Ways
: Norse Discovery of North America,
Six Shooter
, Sleepy Hollow, Pirates of the Carribean I - III,
Fear and Loathing in Las Vegas =]
, Gremlins, The Nightmare before Christmas, FrightNight,
Phantom of the Opera
, Warlock,School Of Rock, Batman, James Bond, Ace Ventura,
Dead Zone
, Labyrinth,
Heavenly Creatures
, Bram Stoker's Dracula
[Dir. Coppola]
, Ed Wood, Equilibrium,
Leon
, The Devil Rides Out,Night/Daywatch,
The Private Life of Sherlock Holmes
,
Dr.Strangelove
or: How I Learned to Stop Worrying and Love the Bomb,
Buffalo '66
, Grindhouse:
Death Proof
& Planet Terror, 13th Warrior,
Highlander
,
Big Trouble
in
Little China
,
Riki-oh
,
Master & Commander:
Far side of the World
,
Network
,
Paris, Texas
, Don't Look Now, [ur;=http://www.youtube.com/watch?v=rcJ0KL_F5r0]Nuns on the Run, The Producers, Blazing Saddles,
Withnail & I
,
Lost Boys, The Fog (1979),
The Thing [John Carpenter]
Lucifer Rising
,
Herz aus Glas
, Being John Malkovich, Cry-baby, Virus,
Demon Seed (1977)
Falling Down
, Baseketball, Clerks I&II,
Evil Dead 2
,Interview with the Vampire, Stewie Griffin: The Untold Story, The Breakfast Club, Donnie Darko,
Casshern
,Sky Blue, Snake Eyes, Battle Royale, I Married an Axe Murderer, Back to the Future I to III,BeetleJuice,
Edward Scissorhands
, Children of Men, Patch Adams, Anger Management, The Faculty, Dead Poets Society, Do the right thing,
My Left Foot, Angelas' Ashes
,
The Name of the Rose
],
Rosemary's Baby
,
Braveheart
, The Omen,
Batman: Mask of the Phantasm
,
Fnord
, The Big Lebowski, Freddie Got Fingered, We're All Devo! The Libertine,
The Wicker Man, Black Narcissus
, moreorless any films with
Depp
, Malkovich,
Christopher Lee
, Michael Wincott, Gérard Depardieu, Gary Oldman,
Kurt Russell
, Wilford Brimley, Christian Bale & any film with Arnie or films directed by
Hitchock
. Summary: Most Fantasy, Horror & Cult [Tank Girl stretches it though]
†The Small Screen/Recreation
Chris Morris as Denholm Reynholm, IT Crowd
Channel 4 in general,
Cracker
,
Ghostwatch
, Lesser Spotted Ulster, Batman: The Animated Series, Game of Thrones,
Dylan Moran
, Garth Marenghi's Darkplace,
Limmy's Show
,
The IT Crowd
, Spaced, Green Wing, Red Dwarf,
Father Ted
✞,
The Savage Eye
, Blackadder, Black Books, Brass Eye, Jam,
Attention Scum
, The Day Today,
Newsnight
,
Question Time
, The Thick of It, Alan Partridge, Dr. Terrible's House of Horrible, League of Gentlemen [BBC], Psychoville, Big Train, Nathan Barley,
The Fast Show
and Harry Enfield,
'Allo 'Allo!
, Mighty Boosh,
Lost, Twin Peaks
,
Lars Von Trier's
The Kingdom (Riget),
Borgen
,
Luther
(BBC)
Batman 60s series
(Holy Semantics Batman!)
, Quatermass and the pit,
The Changes
, The Children of the Stone
[most Nigel Kneale stuff like 'Baby' from Beasts and The Year of the Sex Olympics]
,
Dennis Potter:
'The Singing Detective', 'Brimstone and Treacle', 'Cold Lazarus'/'Karaoke
'
Father Ted
Twin Peaks
Harry Hill, Catherine Tate ,
Stewart lee's Comedy Vehicle
, Yes Minister/Prime Minister, Eddie Murphy,
Le comte de Monte Cristo
,Top Gear, Horizon,
Waking the Dead
, Gormenghast,
Extras
, Wallander, Spooks, Charlie Brooker Screenwipe etc.,
Hardy Bucks
,
Vous les femmes
,
Smack the Pony (CH4)
, Flight of the Conchords,
Neg's Urban Sports
, Murphy's Law, The Avengers, The Prisoner, Dad's Army, Two Ronnies, Ultimate Force, City of Vice, Heroes, Robin Hood, Top Gear, Metalocalypse, Adventure Time, Shameless, Jekyll (BBC1),
Garth Marenghi's Darkplace
Life on Mars, Ashes to Ashes,
Equinox
,
20/20
, Skins, Police Squad, The Changes, Monty Python's Flying Circus,
Mock the Week
, 8 out of 10 Cats,
Shooting Stars
, My Name Is Earl,
Never Mind the Buzzcocks
, Have I Got News For You, That Mitchell & Webb Look, Buffy, Ross Noble, Lee Evans, Ed Byrne,
Bill Bailey
,
Oz
, Due South, X-Files [sometimes], Supernatural, Apparitions,
House
, Dry Your Eyes (BBC ULSTER), Ideal (bbc3/bbc2),
Summer Heights High, Angry Boys
, Classic Albums, Family Guy, American Dad, The Simpsons, The Moomins, Spongebob!,
Doctor Who

[Old and New, and I don't wish to rim David Tennant]
, and finally the NEWS! ||
Recreation:
I watch Formula 1 racing, snooker/pool, watch some 6 nations. Enjoy Hiking & Venturering.
"Nequaquam nobis divinitus esse paratam
Naturam rerum; tanta stat praedita culpa"
†Of Tomes
(Prose,Verse,Magazine)
Hitchhiker's Guide to the Galaxy
By Douglas Adams
The Lord of the Rings & Tolkien
releases namely, the Silmarillion, The Hobbit & The Children of Hurin;
His Dark Materials
trilogy & others -
Phillip Pullman
, Bulgakov's
The Master and Margarita
, Meryvn Peake's
Gormenghast
, Leon Uris'
Mila 18
,Catch-22,Harry Potter,
Artemis Fowl
, Roald Dahl - the man's a hero, Garth Nix, Edgar Allen Poe, Herman Melville's
Moby Dick
, Angels and Demons, Wilbur Smith,
CS Lewis
'
Chronicles of Narnia
,
Stephen King
The travesty that is
Lewis Carroll
, Douglas Coupland, William S. Burroughs,
Dracula (Bram Stroker)
, Shelley's
Frankenstein
, Friel's
Dancing at Lughnasa
, Scar Tissue,
T.Hardy, Edward Thomas
, Hemingway, Tolstoy,
Dostoevsky
,Chaucer,Douglas Adams'
Hitchhikers Guide to The Galaxy
,Stephen Donaldson's
Thomas Covenant The Unbeliever Chronicles
,
Umberto Eco
, The Count of Monte Cristo,
The Third Policeman by Brian Ó Nualláin (aka. Flann O'Brien)
Chuck Palahniuk, Kurt Vonnegut, The Third Policeman by Flann O'Brien, Roddy Doyle, W.B. Yeats, Sean O'Casey, The Playboy of the Western World by J.M. Synge, George Bernard Shaw, Samuel Beckett, George Orwell,
HP Lovecraft
, Ann Rice AND how can i forget
Raymond Feist
, 1 of fantasies greatest novelists, namely for the
Riftwar Saga
continuing to the
Darkwar Saga
. Also love Irish short stories by authors like O'Connor, O'Flatherty, James Joyce, O'Faolain.
Magazine:
Irish News
, Empire, Metal Hammer.
"To be a poet and not know the trade, To be a lover and repel all women; Twin ironies by which great saints are made, The agonising pincer-jaws of heaven."
[Patrick Kavannagh]
Me at the Electric Picnic festival with TinTin =]
†Block Rockin' Beats
♪(Metal,Rock,Electro,EBM,Acoustic/Blues,Prog, Punk-Ska, Soundtracks etc)
|†|Top 10:
RHCP, Cradle of Filth, Opeth, Enslaved, Led Zeppelin, Megadeth, Rory Gallagher, Chemical Brothers, KoЯn, The Beatles
|†|Top Thrash:
Megadeth, Slayer, Sepultura, Testament
|†| ACDC, Adam Ant, Airbourne,Akercocke, Alabama 3, Alice Cooper, Alcest, Alice In Chains, Amon Amarth, Anathema, Anthrax, Anti-Nowhere League, Antony & the Johnsons, Aphex Twin, Aquabats, Arnocorps, At The Gates, Anvil, Baroness, Bathory, Bauhaus, Beck, Bergraven, Bjork, Black Label Society, B.Sabbath, Blind Guardian, Blind Melon, Bliss, Bon Iver, BRMC, Bloc Party, Blondie, Bloodbath, Burzum, ♥ Camel, Capdown, Cat Stevens, Carcass, CCR,
Celtic Frost
, Chimaira, Christy Moore, Children of Bodom, Coil,
Comus
, Coldplay, Cream, Cruachan, DAFT PUNK, Danzig, Darkthrone, D.Bowie, Decapitated, Death, Def Leppard, Deftones, Depeche Mode, Dethklok, Devildriver, Dimmu Borgir, Dire Straits, Duke Special, Duran Duran, Edge Of Sanity, Eels, Elbow,Electric 6, Elton John, Emperor, Entombed, Eric Clapton, Eurythmics, Exodus, Fairport Convention, Faithless, Fear Factory, Fleetwood Mac, Firewind, Foo Fighters, Foreigner, Frank Zappa, Fu Manchu, Fuzzy Duck, Globus, Gojira,
Gorgoroth
, Gorillaz, Grand Magus, Graveworm,
Guided By Voices
, Hawkwind, Horslips, Howard Shore/(Lord of the Rings OST), Hypocrisy, Iced Earth, Immortal,
Incubus,Iron Maiden, Isis, James Brown, Janes Addiction, Jeff Buckley, Jethro Tull, Jimi Hendrix, John Frusciante, John Lennon,Joni Mitchell, John Butler [Trio],
John Martyn
, Jose González, Joy Division, Judas Priest, Kaiser Chiefs, Kamelot, Kasabian, Killers,Killing Joke, Kings Of Leon, KISS, Kreator, Kyuss, Lamb of God, Leatherwolf, Lou Reed, Ludovico Einaudi, Lúnasa, Machine Head, Madness, Mael Mórdha, Manic Street Preachers, Manowar, Massive Attack, Maximo Park, Mayhem, Meatloaf, Meshuggah, Misfits, Mogwai, Mono, Morbid Angel, Mountain, Motörhead, Mr. Bungle, Muslimgauze, My Bloody Valentine, Napalm Death, New Order, Newton Faulkner, Neutral Milk Hotel, NIИ, Nile, Nirvana, Nuclear assault, The Offspring, Ozzy, Pantera,
Led Zeppelin's Houses of the Holy
Phoenix, Pivot,Porcupine Tree, Primal Scream, Prince, Queen, QOTSA, Raconteurs, Radiohead, Rammstein, Rage Against the Machine, REM, Robert Plant, Rob Zombie, Rodrigo y Gabriela, Russian Circles, Sandy Denny, Santana, Satriani, Satyricon, Seal, Sepultura, Sex Pistols, Sisters of Mercy, Skinny Puppy, Slaughter, Slipknot, Smashing Pumpkins, System of a Down, Sonic Youth, Soul Asylum, Stratovarius, Soulfly, Static-X, Stiff Litte Fingers, Super Furry Animals, Talking Heads, Tears for Fears, Teitanblood, The Clash, The Cure, The DICKIES, The Frames, The Kinks, The Music, The The, Throwdown, The Smiths, The Specials, The Sword, The Who, Tim Buckley, Tina Dico, Tool, Tracey Chapman, Travis, Twisted Sister, Type O Negative, U2, Ulver, UFO, Vader, Vangelis, Van Halen, Ved Buens Ende, Victor Wooten, Watain,
Ween
, Wishbone Ash, White Skull, WhiteStripes, Wolf, Wolves In The Throne Room, ZZ Top
Mikael Åkerfeldt, Opeth
†And the rest...
Electro-Acid-House/70-80s-Pop Legends/HipHop/ More Prog & Post-rock/metal♪
65DaysOfStatic, 2manydjs, 2Limited, A Flock of Seagulls, Afrika Bambaataa, Air Supply,
Animal Collective
, Annie Lennox, Ann Lee, Aphex Twin, ATB, Baroness, Basement Jaxx, Beastie Boys, Bloody Beetroots, Blue Oyster Club, Bonnie Tyler, Booka Shade, Calvin Harris, Captain Beefheart,Chic, Combichrist, Crystal Castles, CSS, Culture Club, Daft Punk, Dan Le Sac VS scroobius Pip, Darude, Data rock, Deadmau5,Devo, Digitalism, Dizzee Rascal, DJ Shadow, D-Mob, Dope Stars Inc., Dr Lektroluv, Effiel 65, Erol Alkan, FATBOYSLIM, Faust, Frankie Goes To Hollywood, Fedde Le Grand, Felix da Housecat, Focus, Gary Numan, Genesis,
Genesis P-Orridge
, Goldfrapp,
Grandmaster Flash
AndTheFuriousFive, Green Velvet, Guided By Voices, The Hold Steady, Human League, Isis, Japanese Popstars, John Denver, Journey Jus†ice ♥, KateBush, Kim Wilde, Kool & the Gang, Krafty Kuts, KRAFTWERK ♥, LCD Soundsytem, Lemon Jelly, Lionel Richie, Madonna, Mahavishnu Orchestra, Mark Ronson, Midge Ure, Moby, MOTOR, MSTRKRFT, New Radicals, Orbital, Panda Bear, Peaches, Pendulum, Peter Green's Fleetwood Mac, Pelican, Pet Shop Boys, Pink Floyd, Prodigy, Rick Astley,
Robyn
, Röyksopp, Run DMC, Rush,Russian Circles, Shamen, Simon & Garfunkel, Sparks, Soulwax, Spandau Ballet, Spirit, Syd Barret, The Agonist,The Band, The Go! Team, Throbbing Gristle,
Tina Dico
, Tiga, Tom Petty, Toto, Ultravox, Utah Saints, VNV Nation, Zero7
We are the music-makers, we are the dreamers of dreams. - Arthur O'Shaughnessy
Friday Night in San Francisco
~
War Is Over! If You Want It
~
Van is the Man
An Alternative Ulster... Alter your native land
Ritual
David Bedford
'Suzanne Said'
"Welcome to my nightmare, I'm the father, the son and the whole polluted system"
Lolita
Dermot Morgan (Father Ted)
Flann O'Brien
~~

"It is the mark of an educated mind to be able to entertain a thought without accepting it."
"Sic transit gloria mundi"
Fnord